Connecting the Climate Challenge: Partnering Communities in Scotland and Nepal to tackle the climate crisis
Initiative of Engage Nepal with Science (University of Edinburgh-UK and Research Institute for Bioscience and Biotechnology-Nepal) in collaboration with Tribhuvan University, Teach for Nepal and the Midlothian Council (UK, Scotland) funded by the British Council as part of the COP26 Creative Commissions for the Climate. From the beginning of 2022, this project is also supported by the Eurofins Foundation.
Connecting the Climate Challenge connects communities in Nepal and Scotland to work together towards finding solutions to tackle the climate crisis using an interdisciplinary approach that includes digital technologies, science and art as platforms to educate, raise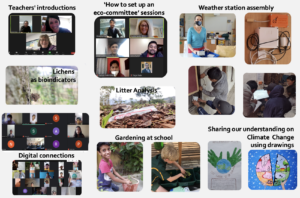 awareness and problem solve. Schools covering the main climatic areas of both Scotland and Nepal are the primary audience, as they act as excellent entry point to the wider community.
The aim of this initiative is to empower Nepalese and Scottish communities to make real change and become positive role models to raise environmental awareness and inspire climate action while building, what we hope will be, long-lasting bridges between their communities. Through this initiative we also aim to give underrepresented communities a voice in the climate debate and reduce inequalities by levelling up schools from both countries.
In 2021, 10 schools in Scotland were digitally paired with 10 schools in Nepal and shared their lived experiences to work together towards tackling climate change:
–           Crystal Mountain School (Dolpa, Nepal) with Levenmouth Academy (Fife, Scotland)
–           Shree Saraswoti Model Secondary School (Tanahun, Nepal) with Dunblane Primary school (Stirling, Scotland)
–           Motherland English Boarding School (Argakhachi, Nepal) with Blackburn Primary School (Bathgate, Scotland)
–           Mount View School (Balkot, Nepal) with Dunrossness primary School (Shetland Islands, Scotland)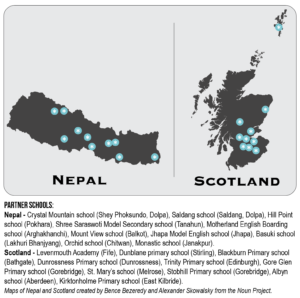 –           Basuki School (Lakhuri Bhanjyang, Nepal) with Stobhill Primary school (Gorebridge, Scotland)
–           Jhapa Model School (Jhapa, Nepal) with Trinity Primary School (Edinburgh, Scotland)
–           Orchid School (Chitwan, Nepal) with Gore Glen Primary School (Gorebridge, Scotland)
–           Monastic Secondary English Boarding School (Janakpur, Nepal) with St Mary's school (Melrose, Scotland)
–           Hill Point school (Pokhara, Nepal) with Kirktonholme Primary (East Kilbride, Scotland)
–           Shree Shelri Drugdra school (Saldang, Nepal) with Albyn school (Aberdeen, Scotland)*
* Shree Shelri Drugdra is having internet issues due to the remote location of the school, but both schools are still working in parallel
Now in 2022, the original schools have mentored one school each into the project, so we are now working with around 20 schools in each location.
We always encourage our partner schools to participate in exciting opportunities. In 2021, four of our partner schools in Nepal participated in the Camera Sika X Road to COP26 film making competition and 2 of the schools won the Climate Change award and the Most liked film award! So proud of everyone that participated!
Motherland English Boarding school (Argakhachi)
Jhapa Model English school (Jhapa)
Crystal Mountain school (Dolpa)
Monastic school (Janakpur)
In 2022, one of our schools, Monastic school (Janakpur), participated in the 1.5Max Climate summit sharing their environmental work with other schools in Nepal, Scotland, Mozambique and Malawi (for more information, please click here).
Schools also work with Nepalese and Scottish artists and videographers to promote environmental awareness through artworks and media.
Our plan is to run the project for a total of 5 years, with new schools joining every year by being mentored by the experienced schools. Exciting times!
Thanks to the British Council and Eurofins Foundation for funding! And thanks to Edinburgh Climate Change Institute for the support!
Keep an eye on this page for updates!