Connecting the Climate Challenge: Partnering Communities in Scotland and Nepal to tackle the climate crisis
Initiative of Engage Nepal with Science (University of Edinburgh-UK and Research Institute for Bioscience and Biotechnology-Nepal) in collaboration with Tribhuvan University, Teach for Nepal and the Midlothian Council (UK, Scotland) funded by the British Council as part of the COP26 Creative Commissions for the Climate. From the beginning of 2022, this project is also supported by the Eurofins Foundation.
Connecting the Climate Challenge connects communities in Nepal and Scotland to work together towards finding solutions to tackle the climate crisis using an interdisciplinary approach that includes digital technologies, science and art as platforms to educate, raise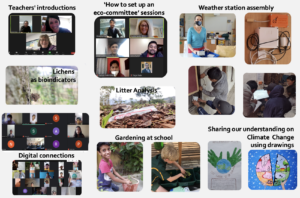 awareness and problem solve. Schools covering the main climatic areas of both Scotland and Nepal are the primary audience, as they act as excellent entry point to the wider community.
The aim of this initiative is to empower Nepalese and Scottish communities to make real change and become positive role models to raise environmental awareness and inspire climate action while building, what we hope will be, long-lasting bridges between their communities. Through this initiative we also aim to give underrepresented communities a voice in the climate debate and reduce inequalities by levelling up schools from both countries.
Schools also get to work with Nepalese and Scottish artists and videographers to promote environmental awareness through artworks and media.
Our plan is to run the project for a total of 5 years, with new schools joining every year by being mentored by the experienced schools.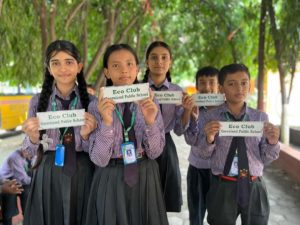 We started working together in 2021, pairing 10 schools in Nepal with 10 schools in Scotland. In 2022, the first batch of schools mentored one school each into the project, so we are currently working with around 20 schools in each location.
We are now looking to recruit the third batch of schools! And we are exploring new countries to be paired with the schools in Nepal, so if you are interested in joining us in the fight against climate change, please get in touch!
Thanks to the British Council and Eurofins Foundation for funding! And thanks to Edinburgh Climate Change Institute for the support!
Keep an eye on this page for updates!
Here some quotes from educators and students involved in the project:
Krishma (student): nowadays, we are being careless about our environment and forgetting that our environment is our everything. Thanks to this project I got to know more about my grandparents' lifestyle and how our area has changed during the last few decades. I have learned a lot about our environment and how to take care of it with all the different creatures living in it.
Lhakpa (student): Getting to interact with students from the UK, to organise two climate change conventions with our school eco-committee and to perform scientific experiments related to the climate and environment have made me more aware of my surroundings. During the litter analysis, we found more plastic in our valley than we had ever imagined! So, we requested our community to reduce their use of plastic explaining them the reason behind our request. The facts helped our community understand why it is so important to protect our environment!
Nabina (Educator): Leading the group of learning enthusiasts is being a wonderful journey. I've learnt about the flora and fauna of the Himalayas and got the opportunity to interact with locals and various authorities to discuss about the environmental changes in the Himalayan region of Nepal and specific action plans.
Khem (Educator): I have learned that big projects like climate change can be accomplished locally. Students are now much more enthusiastic to perform the environmental experiments than taking merely online classes.
Mwara (Educator): Now all students feel more aware of the global implications of climate change through their connection with the pupils in Nepal.
Emily and Olivia (students): We have become much more aware of the environmental damage that is happening to our world caused by us. Hopefully we can start to make progress. Speaking to children that have seen the effects of climate change has really impressed upon us the magnitude of the problem at hand and has encouraged us to make an effort to give up bad habits and help the planet.