Post Date:
15 November 2020
---
The development of a country starts in the classroom
Alba Abad
After completing my Master's Degree in Crop Sciences from the University of Hohenheim, Germany, I decided to go back to my motherland, Nepal. Nepal is an agricultural country as most of the people depend upon agriculture. Agriculture in Nepal involves the majority of the human resources and is a source of livelihood for a large population living in Nepal. Due to my research interest in agricultural sciences I thought my home country would be the best choice to build up my professional career. Upon returning, I started working with the Research Institute for Bioscience and Biotechnology (RIBB) as a research associate.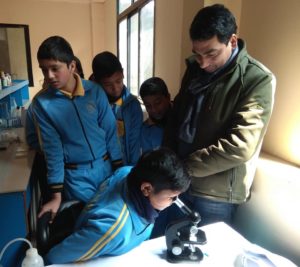 I'm so proud to be a part of this organization, as this organization is not only concerned about research activities but also has a project running called "Engage Nepal with Science" in collaboration with the Welcome Centre for Cell Biology from the University of Edinburgh. This project is working in Nepal by engaging students from public and community schools through visual and practical based learning of science and scientific skills. I strongly believe that it is education that makes the foundation for a blissful life and that the entire development of the country begins in a classroom. This is what prompted me to be an active volunteer of Engage Nepal with Science.
During the visit to Hill point secondary school (Pokhara) in January 2020 and Shree Mahalaxmi secondary school (Lubhu) in March 2020, we shared our knowledge about life sciences with the students.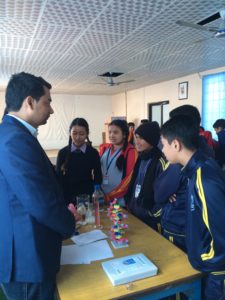 The students were curious to know about the Cells, the building blocks of life. Suvechhya, the RIBB Public Engagement Manager, presented the topic 'cells' using entertaining slides. Students from both schools were eager to know the structure of cells and cell organelles. Me and my colleague Rita were directly involved with the students explaining them about DNA and taking any questions they had.
Students were very curious about the structure, function and synthesis of DNA. We were happily surprised that students were so keen to know and learn more about life sciences. They enjoyed the way we presented everything. It was also the first time for them to see and have hands-on practice with microscopes, so they had a great experience. Similarly, in schools at Lubhu, students showed the same enthusiasm regarding life sciences. We presented onion cells and other slides on a portable microscope. Students learned how to work with a microscope and they were also amazed to look at blood cells on a microscope.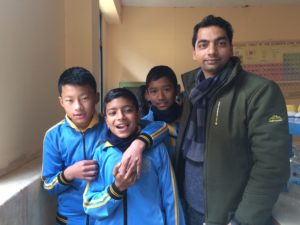 Everyone who participated had a chance to look at their own blood cell on slides, which created a great excitement among them. Although students from these schools have the potential to learn and explore life sciences, they are deprived from visual learning.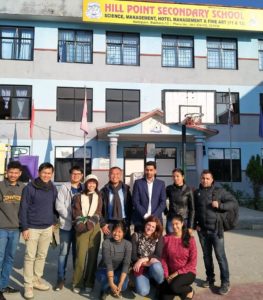 Nepal, a developing country is devoid of practical skills and hands-on training at public and community schools and colleges. Only theoretical knowledge is not enough in the modern world. I appreciate that private schools in Nepal have at least basic equipment for learning science. But on the contrary, public or community schools do not have resources or basic knowledge to teach science in an engaging way. As we all know, students are the future of the country, therefore, educating students by visualization will bring immense change in their learning habits and will boost their creativity which eventually will result in the prosperity of the country.